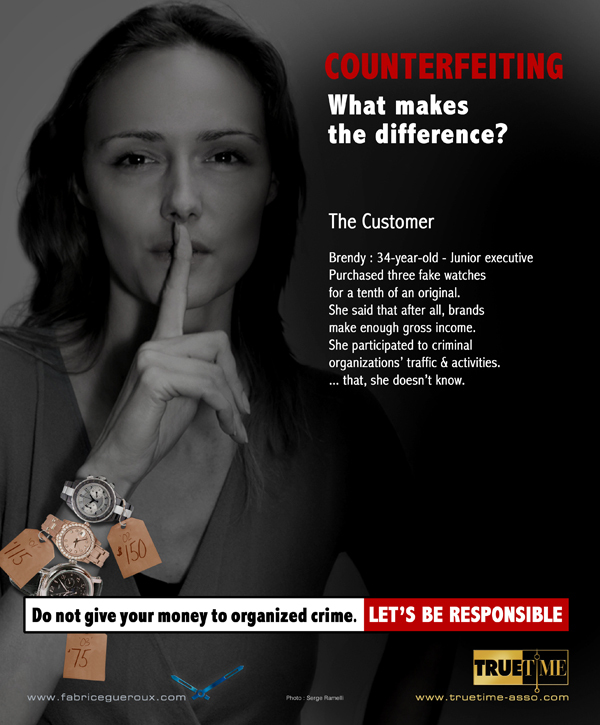 ENGLISH VERSION
TRUETIME


AGAINST COUNTERFEITING AND CRIMINAL ORGANIZATIONS …

LET'S BE RESPONSIBLE
Throughout the past few years, most watch brands have been involved in the fight to protect their products against counterfeiting and the underground black market in which they are sold to unsuspecting consumers. The fight against counterfeiting is the responsibility of everyone and each of much take action to become aware of what is implied under this scourge.
Needless to say, the obvious detriment of counterfeiting is the harm it does to the revenue for those in the jewelry business. However, today, the "fake" watch business is under the direct control of the biggest criminal and mafia businesses the world over. The worldwide distribution, of course, involves not only these watches but rides the same boat as drugs, prostitution, weapons and these to name just a few.
Fabrice Guéroux, the President of the TRUETIME Association, has specialized in the fight against counterfeiting and this subject is in fact not new at all. He is the writer of the best-selling book, "Real and Fake Watches". Additionally, he is directly at the forefront of the overwhelming and "uneven" real war since years, since multiplying his efforts to neutralize and eradicate these criminal activities. His fight against counterfeit watches, took true form with the release of his second book, at the Baselword 2011 Exhibition. The book, a fake or counterfeit counterguard technical manual, is available in three languages and designed to increase the reader's comprehension of the subject and it additionally provides the necessary tools to be able to tell the difference between fake and genuine watches for any mark and make. Moreover, his book is flanked by the actions of TRUETIME, a non-profit association founded to fight the proliferation of fake and counterfeit watches.
This last past year, TRUETIME continued it's fight next with the production of a short video explaining what is really involved underneath the counterfeiting and fake watch black market. The video campaign was released in June 2010, on World Anti-Counterfeiting Day. It has been shown to audiences worldwide. TRUETIME continues to face the criminal side of this "business", denouncing the organizations responsible in this as well as the narcotics market, prostitution, human trafficking, money laundering, etc.
RESULTS IN NUMBERS
Truetime's campaign:
1 shortcut video on Internet since June 2010
4 ads on Internet and in specialized press (with the help of magazines such as "La Revue des Montres" and "Watcharound").
DURING A YEAR
592,500 persons
have seen the Truetime campaigns and raised their awareness about criminal organizations.
128,500 know more
about the real involvement of organized crime in the counterfeit products distribution worldwide after having seen the Truetime's shortcut video.
VIDEO: CLICK HERE
CAMPAIGN IMAGES
High definition pictures and video are available for press services upon request:
contact@truetime-asso.com
CONTACTS
Email :
contact@truetime-asso.com
Association Truetime
Tél. : 33 676 412 705
President : Fabrice Guéroux
Email :
fabricegueroux@truetime-asso.com
www.truetime-asso.com
.truetime-asso.com